Circle of Friends & Physicians Circle of Friends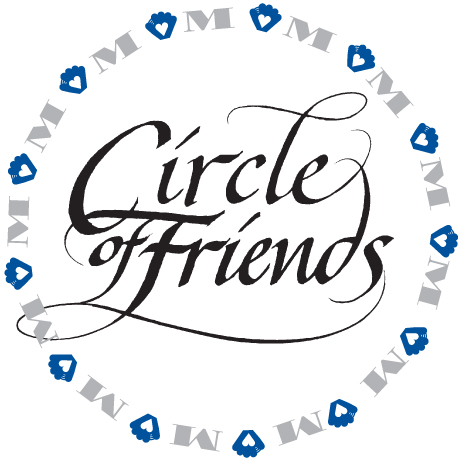 Circle of Friends
Every successful mission is nurtured by a select group of individuals who lead with their hearts and follow-up with their generosity in support of the greater good. The Circle of Friends is comprised of our friends and neighbors who give $1,000 or more annually to support the Foundations' work. We extend our deepest thanks to the following Circle of Friends members for their commitment in 2019.
$25,000+
Melissa and Allan Budelman
Community Foundation of Broward
Cornfeld and Hurowitz Family
Cystic Fibrosis Foundation
Frederick A. DeLuca Foundation
In Honor of the Life and Courage of Evan J. Dias
Robert and Michelle Diener Foundation
The Saul and Theresa Esman Foundation, Inc.
Florida Community Health Network
Florida Blue
Rona and Steven Geller
Gilead Sciences, Inc.
Mark J. Gordon Foundation
The Gordon Family Foundation
Conrad N. Hilton Foundation
Hyundai Hope on Wheels
The Jimmy Foundation, Inc.
Joy in Childhood Foundation
Alvin Kemper
Susan G. Komen for the Cure, Miami/Fort Lauderdale
Leading Ladies, Inc.
Dara and Jarett Levan
Henry Linker
Eugene and Peggy Lutke
Deanna Mannix Mitzenmacher
Leatrice Maccioni
Family of Jennifer Masi
Chris and Nathalis McFarlane
McNally Family Foundation, Inc.
Memorial Regional Hospital Auxiliary
Jim Moran Foundation
Daniel O'Connor
Rance King Properties, Inc.
Anthony Rizzo Family Foundation, Inc.
Schwab Charitable
Stu Siegel Foundation
Robert Spina
Jack Stromfeld
Subaru of America, Inc.
The Taft Foundation
Barbara and Benjamin Tobias
The Trivedi Family Foundation
Ultimate Software
United Way of Broward County
The Wasie Foundation
William C. Webb Jr. Foundation
Wellington Office Parc, LLC
Fern Winters
Wrobel Family Foundation
Laura and Judd Zebersky

$10,000+
1000+ Club to Benefit Cancer
Carolyn S. Adler
American Endowment Foundation
Atlantic Coast Enterprises, LLC
Samuel C. and Jasmine L. Cantor
Chance Family Enterprises
Community Foundation of Broward - By Your Side Fund
Irving and Marjorie Cowan Family Foundation
Chrystal Felsen
Florida Breast Cancer Foundation
The Charles F. and Esther M. Frye Foundation
Keith and Agnieszka Gray
Ellen & Gerald Greenspoon
Sandra Gulden and Leon J. Goldberger Gulden
John Hilton McAulliffe
Marcia and Joel Hochberg
Barbara "Bobbi" and Walter Hollander
Jewish Community Foundation
Jeanne Moy Kubetz / Henry G. Kubetz
Henry L. & Kathryn Mills Charitable Foundation
National Mah Jongg League Foundation, Inc.
Network for Good
The New Millennium Charitable Foundation
Nursing Activities Committee
Sandra, Tom, Zach and Tyler Oliveri
Ms. Sandy Orr
The Paddock Family Foundation
Parkinson's Foundation
Christopher and Dana Reeve Foundation
Mr. and Mrs. Robert Romagnino
Sylvia and Robert Schlanger Foundation
Mr. Joel A. Schwartz
Ms. Carolina Serani
Mr. and Mrs. Jon M. Vogel
Wawa, Inc
The Daria S. Weisser Foundation
The Wittich Family

$5,000+
Advancing Practictioners
American Cancer Society
Jay Gutierrez - In Honor Of MRH SSU naming
Nina Beauchesne and Family
The Benevity Community Impact Fund
The Louis Berkowitz Family
Kenneth Bierman/Mellon Private Wealth Management
Brunetti Foundation
Walter and Marcy Bussell
Leah A. Carpenter and Family
The Cinta Foundation
The Mark E. Doyle Foundation
EisnerAmper LLP
Aurelio and Patricia Fernandez
Mary Friedman Baske Family Foundation
Doug and Debbie Gawrych
go2foundation
Vedner Guerrier
H. I. Foundation, Inc.
Hard Rock Cafe, Hollywood Florida
Hard Rock Heals Foundation, Inc.
Health Business Solutions, LLC
Judith D and C Kennon Hetlage
The Hull Family Foundation
I Care I Cure Childhood Cancer Foundation, Inc.
Mr. and Mrs. Ben Jacobson
Beth and Kevin Janser
The Marquis George MacDonald Foundation, Inc.
Mr. James Meyer
Miami Postal Service Credit Union
Muhart Family
Joel and Edith Newman
Marion A. Roletti Foundation, Inc.
Zeff and Vicki Ross
Sanofi US
Adolph and Ruth Schnurmacher Foundation, Inc.
Carl and Sandra Schuster
David and Nancy Smith
Todd and Caitlin Stella
Mr. and Mrs. Kenneth Stowe
Jeffrey and Christine Sturnam
Margie Vargas-Hernandez and Juan Hernandez
Wells Fargo Advisors
West Broward Bobcats Baseball Booster Club, Inc.
Mr. Anthony E. Wilson
Mr. and Mrs. Ricardo D. Wodnicki
Howard Wurzak and Jake Wurzak
Mr. and Mrs. Doug Zaren

$2,500+
Alliance Data Systems
American Society of Clinical Oncology
AO North America, Inc.
Axis Healthcare Partners, LLC
Mr. and Mrs. Stanley F. Barshay
Beyond Air Support, Inc
Mr. and Mrs. Lyle Boucher
Mr. and Mrs. Ross E. Brown
Cohen & Company Real Estate Services
Ms. Jackie Cruz
James A. and Jan R. Cummings
C. Steven Duncker Foundation
Epic Charitable Fund
Mr. Joseph A. Epstein, CPA
Fidelity Charitable Gift Fund
Mr. Joseph A. Fink and Mrs. Marcia L. Horton
The Albert and Judith Goldberg Family Foundation
Mr. and Mrs. Allan Gottesman
Arnold & Joy Gottlieb Family Foundation
Mr. Eduardo M. Ibarra
Invitation Homes
Andrea M. Jacobson
Dave and Lorrie Jones
Mr. Anthony C. Krayer, III
The Louis J. Kuriansky Foundation
Chantal Leconte
Mr. Jonathan Lorber
Elsie Luhan Foundation
Mastec
Morrison, Brown, Argiz & Farra, LLP
My Family Matters, Inc.
Maria Naranjo
Ms. Gail Rader
David P. Reinmund
The Gutierrez-Rose Family
Rosemurgy Properties, LLC
Rotary Club of Weston
Sandler Foundation, Inc.
Regina Sims
The Stuczynski Family
Tobias Financial Advisors
Truist
Mimi Weber
Mr. and Mrs. Edward J. Werner
Mrs. Maggie Wiegandt
Yourcause, LLC Trustee for NextEra Energy, Inc

$1,000+
A to Z Statewide Plumbing, Inc.
Aflac
Ana Agostini
Maritza and Felix Alvarez and children
Mariela Alvarez
Richard M. Alverz
American Express Foundation Employee Giving
Ms. Alexandra Anagnostis
Mr. Joseph Anselmin
Mrs. Chiquita Antoine
Ms. Laura Auriemma
Mr. and Mrs. Alberto Azout
Veronica Bautista and Family
Mr. and Mrs. Bob Becker
Ms. Corazon Benson
Obdula S. Devon Bernard Charitable Foundation Trust
Ms. Cheryl L. Birmingham
Edward and Susan Blumenfeld Foundation
Christopher J. Boothe
Fortuna "Tuni" Borrego
Mrs. Carin Boris
Mrs. Dawn Broksch
Mr. Arthur Brown
Veronica Budwig
Bella S. Cabrera, M.S.N., R.N.C.
Mr. Richard W. Carroll
The Castle Group
Mr. and Mrs. Joseph Catania
Marian J. Cavgnaro
Ms. Renee Circone
Mr. and Mrs. Lloyd Comiter
The Community Service Foundation of Broward County
Patrick and Elisa Connor
Corporate Airsearch International, Inc.
Cox Automotive, Inc.
Tim Curtin
Ms. Siobhan Davis
Dudley and Mary Ann Crawford
Custom Shoot-Out, Inc.
Mr. Clyde Davis
Scott Davis
Bryan and Michele Davis
Ms. Marcia Davis
Ms. Alison Davis Lavandosky
Mr. and Mrs. Ken Delisle
The Helen and Philip Delman Foundation
Mr. and Mrs. Irwin M. Diemar
Mr. Pasquale DiGiorgio
Deborah Doyle
Dream Cars 4 Kids
Mr. and Mrs. Joseph D. Dreyfuss, II
The Eachus Family
Mr. Wilbert D. Elliott
Charlie and Susan Emby and Family
Johnny Espinosa
Mr. and Mrs. Burt R. Euliano
Kim Fego
Mr. H. Fink
Ann Finn
Ms. Carleena Fiorenza
Flossie's Bar & Grill
Mr. Keith Friedman
Mr. and Mrs. Kenneth Frisman
Judith Frum
Keith and Terrie Garner
Greg and Tina Haas
Mr. Lawrence Geller
Robert A. Giacin
Gil Hyatt Construction
Mr. and Mrs. Jonathan Gilinski
Mr. Eric Gleit
Mr. John Glodon
Mr. James Goldenberg
Ms. Jill Goldsmith
Mr. Jay E. Gould
Sharon, Doughlas and Andrew Gourzong
Sarah and William Griffith
Mr. David Guariglia
Mr. Jorge Guedes
Anthony Hamedl
Richard & Cynthia Havel
Heart Center of America
Hearts for Kylee Foundation
Mr. Crockett Herd
Mr. and Mrs. Rob Herzog
Mr. Still Hunter
International Center For Postgraduate Medical Education
Mr. and Mrs. Vanessa Jaipal
The Jan Foundation Inc.
JDH Properties LLC
Josette Jeffrey
Joe DiMaggio Children's Hospital
Randy and Sue Katz
Key Biscayne Lions Club
Kings Knights Charitable Fund
Mr. and Mrs. Paul Koenig
Saul Kredi
The Ladies Philoptochos Society of St. George Greek
Mr. Mike Landi
Frank and Deanne Ledee
Ms. Kristi Lee
Geo. Zoltan Lefton Family Foundation
Ms. Jessica A. Lieberman
Lipsett Family Charitable Fund
LTP Management Group Inc
The Lumley Family
Mr. Bill Lunn
Mr. and Mrs. Peter Maitland
Mr. and Mrs. Thomas Marroccoli
Mr. and Mrs. Kevin Mason
Mateu Architecture Inc.
Ms. Michelle Mauricio
Tracy and Howard Meltzer
Memorial Hospital West - Administration Staff
Memorial Hospital Miramar - Administrative Staff
Memorial Regional Hospital
Memorial Cancer Institute
Memorial Regional Hospital South
Memorial Healthcare System - IT Department
Jenna Katz and Jarrett Merlucci
Mr. and Mrs. Ralph Merritt
Ms. Teri L. Miller
Mombach Boyle & Hardin, P.A.
Jared E. Moskowitz State Represenative Office
Mount Sinai Wellness
Mr. and Mrs. James A. Munro
Julie M. Murray
Mr. and Mrs. Jerrald Muscat
Joyce Myatt
Mrs. Mary Nash
National Hockey League Players' Association
NEXTAFF
Mr. Stephen Nichols
Northern Trust Bank
Lewis L. and Virginia B. Ogilvie
Mr. and Mrs. Tom O'Hara
Judith G. Othrow
Laurie & Alf Padron
Mr. and Mrs. Charles L. Palmer, III
Mr. Robert Parker
Teresa and Nathan Pate
Oscar E. Perez
Mr. and Mrs. Pablo Perez-Arias
Christopher and Patricia Perry and Family
Mr. and Mrs. Adam Phillips
Phys Ed Gear
Pines Ice Arena
Mr. James E. Plastow, Jr.
Ms. Brooke Porter
Premier Parking
Angela Primiano
Property Value Solutions
Andrew Norden & Haroula Protopapadakis
Dionne Proulx and Family
Mr. and Mrs. Bennet Pumo
Dawn & Michael Quaranta
Mr. and Mrs. Manuel Quintana
Rare Rides
Jennifer Reilly-Miller and family
Denise V. Reynolds
Senator Nan Rich and Mr. David Rich
Mr. William E. Riley and Mrs. Karen M. Pascarella
Emily Rocha
Mr. Francisco Rodriguez
Mr. and Mrs. Ken Rosen
Mr. and Mrs. Kenneth Ross
Mr. and Mrs. Rich Rubin
Mr. Warren Rustin
Safe Kids Worldwide
Mario R. & Raiza S. Salceda
Mr. and Mrs. Christopher S. Sanderson
Ms. Saundra Santoro
Ms. Joyce Sasser
Mr. Salvatore Scafidi
Ms. Karen Schiff
Mr. Leo Schwartz and Mrs. Marla Schwartz
Mr. Ira and Dr. Thea Semanoff
Ryan and Christina Shea
The Shepard Broad Foundation, Inc.
Jineal Shinn
Lotta K. Siegel
Signature Grand
Scott Singer
Michele Slane
Donna I. Smith
Snyder & Snyder, P.A.
Solomon Family Foundation, Inc.
Ann E. Sommer
Ms. Esther Surujon
Tessier Family Charitable Fund
Jamelah D. Tucker, MD
United Way of Salt Lake
United Way of Miami-Dade County
USG Corporate Headquarters
Mr. Luis Vazquez
Rene & Nancy Vidaurre
Judy Villar Sada
The Weisman Family Foundation
Westway Towing, Inc.
Bill, Jane and Sara Wheatley
Isidore and Patricia Wollowick Family Foundation
Mr. George Zimmerman

*12 donors wish to remain anonymous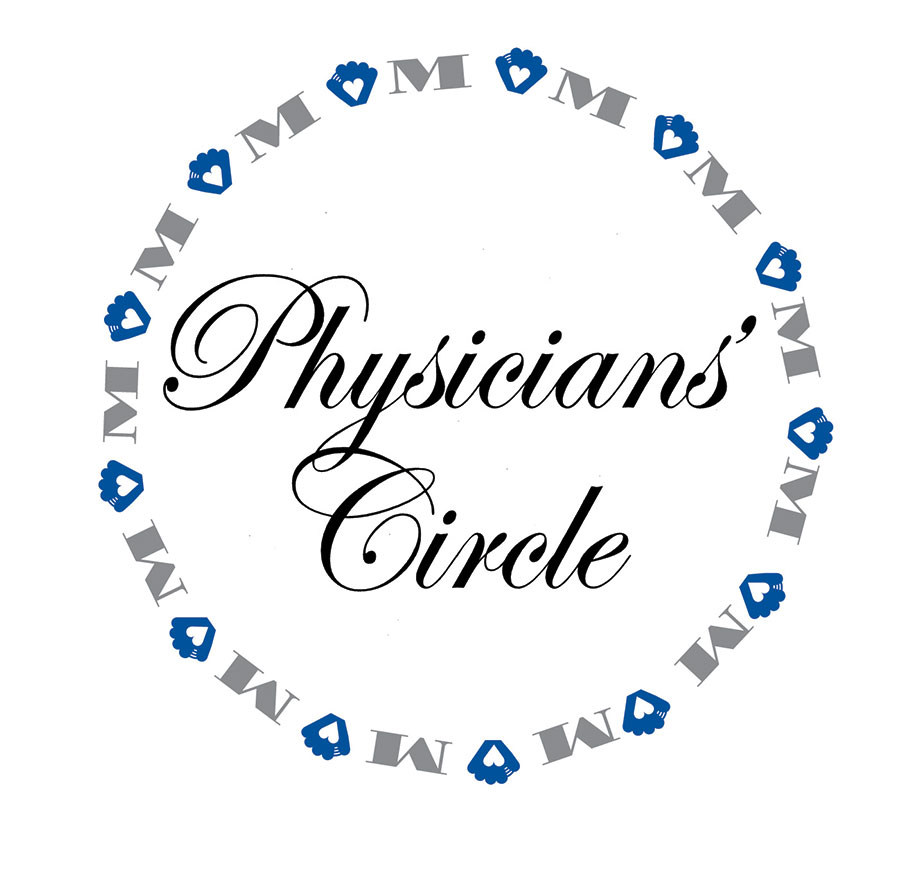 Physicians' Circle
The mission of the Foundation san d of physicians is closely alighed, as both strive to improve the healthcare os the community. They Physicians' Circle represents those doctors who have made a financial commitment to suppor the work of the Foundations. We offer our heartfelt thanks for their contributions in 2019.
$25,000+
Cornfeld and Hurowitz Family
Brandon Davis, MD
Envision
Joe DiMaggio Children's Hosptial Medical Staff
Drs. Esther and Frederick Keroff
Holly Neville, MD
Pathology Consultants of South Broward
Pediatric Critical Care of South Florida

$10,000+
American College of Surgeons
Dr. Gary and Barbara Birken
Dr. and Mrs. Adam Blomberg
Dr. and Mrs. Daniel B. Chan, MD
Christopher R. DeMassi, MD, FACS
Dr. and Mrs. Gilbert Drozdow
Francesca Cassel Forrestal, MD
Memorial Regional Hospital Medical Staff
The Scholl Family

$5,000+
Dr. Jason and Mandee Adler and Family
Dr. and Mrs. M. Richard Auerbach
Dr. and Mrs. Howard Berlin
Saima Chaudhry, MD, MSHS
Dr. amd Mrs. Kak - Chen Chan
Dr. John Cogan and Susan Cogan
Dr. Kathleen Davenport and Mr. Andrew Cobble
Grisel Fernandez Bravo
Ronald A Ford, MD
Dr. and Mrs. Eric Freling
Hussein Family
Beth-Ann and Peter Krimsky
In memory of Mariel Hayes-Macaluso
Dr. Stanley and Patricia Marks
Memorial Hospital Miramar Medical Staff
Dr. Luis Raez and Dr. Aida Chaparro
Ana M. Rodriguez, Pharm.D.
Mr. John Binsfeld and Dr. Jill Whitehouse
Greg Zorman, MD

$2,500+
Juan Arenas, MD
Dr. and Mrs. Paul J. Benke
Drs. Steve and Jennifer Bibevski
Dr. and Mrs. Eddy H. Carillo
The Center for Gynecologic Oncology
Michael and Betty Cortelli
Drs. Howard and Tamar Levene
Ralph and Debi Levy
Rosha McCoy, M.D. and Ron McCoy
Dr. and Mrs. Sean O'Donnell
Sareli Family
Kelly and Dexter Sereda

$1,000+
Manuela C. Almaguer, MD
Dr. Todra Anderson-Rhodes, CMO, MHM
Dr. Richard and Janice Baker
Dr. and Mrs. Pedro F. Bermann
Dr. Bryan Berry
Dr. and Mrs. Brian Cauff
Anika Clark
Dr. and Mrs. Brett Cohen
Dr. and Mrs. Murray N. Cohen
Dr. Dafney Davare
Dr. and Mrs. Jeffrey Diamond
Dr. and Mrs. Mark S. Dorfman
Drs. Jennifer and Kissinger Goldman
Sarah Hart-Unger
Dr. and Mrs. Frederick S. Herold
Dr. Dean A. Hertzler and Ms. Senait Araia
Alan Holz and Jose Stone and Family
Dr. and Mrs. Jeremy Jacobs
Dr. Donald Kim and Mrs. Victoria Kim
Seong K. Lee
Robert H. Maliner, MD
Dr. Diana Martinez and Family
Dr. and Mrs. Juan C. Martinez
Dr. and Mrs. Neal P. McNerney
Memorial Hospital Pembroke Medical Staff
Charles A. Messa III, MD, FACS
Dr. and Mrs. Aron Neuhaus
Dr. and Mrs. Alan K. Novick
Dr. and Mrs. Marshall D. Ohring
Raymundo and Paolo Pastor
Paul Pavilack, MD
Dr. and Mrs. Frank Pearl
The Rosenthal Family
Dr. Joel And Adele Sandberg
Anne M. Schaefer, MD
Dr. Marc Shapiro
Dr. Bernard Shuster
Dr. and Mrs. Marvin K. Smith
Mr. and Dr. Hannah Thompson
Tammy Tucker and Tim Curtin
Dr. and Mrs. Michael J. Weil
Ming and Sufen Young